4/30/18 – Before cataloging this ring, I knew I had to try it on. For me, trying on new jewelry is akin to slipping into a new identity, if only for a moment. Just my luck – the 5 ¾ fit of this ring is my Cinderella's slipper, a perfect match for my finger! This is the ring of a fearless, self-assured and sophisticated woman.  It can't be worn with your ordinary 9 to 5 look. Instead it demands an elegant ensemble and a special occasion where it can really shine.  Picture yourself with shoulders straight and eyes narrowed, perhaps clutching a champagne flute, with this glittering rock on your finger. You will definitely make an impression at your next cocktail party.
Now consider the 4.60 carat oval-shaped tension-set tanzanite; the boldness of the platinum mounting and the hefty glittering gemstone working in active opposition to the perilous balancing act of the tension setting.  The stone is a sensation. Tanzanite is known for its pleochroic effect, meaning its color will appear to change when viewed at different angles. Shifting from royal blue to bluish-violet to vibrant purple, this chameleon stone craves attention and drama. Not to mention the thirty-four diamonds which frame the tanzanite from all angles.
Like everything that passes though Pook & Pook, this item isn't brand-new. Minor imperfections here and there along the platinum band tell us that this ring has been a cherished and faithful companion to a number of dignified affairs. With second-hand jewelry, these small blemishes underscore the wisdom that comes with experience and are part of what makes my job at Pook & Pook exciting every day.  A number of different women may have worn this ring and there is something bewitching about being part of a shared experience that spans many years.  I am gratified for sharing in this ring's story as it passes through our hands and onto the finger of its next owner. Perhaps I'll be able to recognize her by the twinkle in her eye.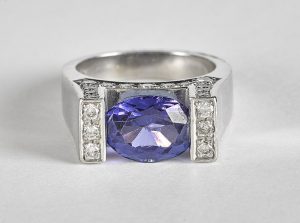 by Kaitlyn Julian