Pook & Pook would like to congratulate auctioneer and appraiser Jamie Shearer on his appointment as President of the Pennsylvania Auctioneer's Association for 2022. Made up of nearly 500 auctioneers, the PAA supports a political action committee, professional development, and continuing education for its licensed members. Jamie's involvement with the PAA has always been a source of joy, to the point that he considers it a big, extended family. When called upon for assistance by his fellow auctioneers, Jamie is known for his generosity and his honest answers. Auctioneers often refer business to him, and if he recommends someone, he knows they will do their best for the clients. "The PAA is really a second family. We compete for collections and then go home and have dinner together," Jamie says. These relationships have built Jamie a strong foundation in the business.
His straightforward, honest approach has earned him a reputation at Pook & Pook among buyers and sellers as well. Many people know they can rely on his opinion. As Jamie describes, "It's not about selling that one high-dollar thing, it's about building trust and a relationship. With that in place, customers will return to buy 100 expensive things."
Jamie brings a wealth of experience to his position. Born into a family of York County, Pennsylvania antique collectors, one of his favorite bon mots is, "I just turned fifty-three, and I've been involved in the business for fifty-three years and nine months." Jamie started collecting baseball cards as a boy in 1980, and rapidly branched out from there. He has catalogued and appraised for auction houses since 1994. Ron Pook spotted his talent early on, bringing him to Pook & Pook in 2006. Ron says "I knew right away that he would be a great asset to the auction house."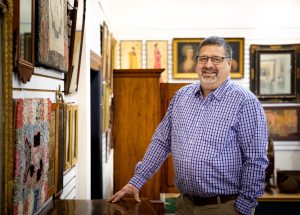 Jamie's passion is about the next great discovery, ringing doorbells and finding a collector's passion, and hearing their stories. His favorite items are "what's coming in the door next, and what collections I get to have for the next three months." When the tide of a new collection arrives at Pook & Pook, he is thrilled to handle the great things. If this sounds a bit sentimental, it is because under that Navy veteran exterior, Jamie has a deep connection and passion for antiques, and gets attached to their collectors. As Beth Pook describes him, "Jamie has an incredible, innate sense of making people appreciate their collections." Cathi Thompson has worked with Jamie for a long time, and through the years has seen him "develop deep relationships, respect for the antiques, the people connected to them, and the stories behind them."
Congratulations to PAA President Jamie Shearer on his appointment. Pook & Pook is fortunate to be represented by a professional of his caliber, and so is the State of Pennsylvania. We look forward to more great things from him in 2022.
by: Cynthia Beech Lawrence