The Collection of F.R. "Bud" Lear III is an exceptional lifetime assemblage of copper-alloy candlesticks manufactured before 1700, which illustrates the history of development of socket candlesticks and the relationships between different forms across Europe. The Collection is composed of notable and rare examples. A lifelong antique collector with a fascination for early lighting, Bud Lear met kindred spirit Christopher Bangs in London in 1985. Their meeting led to a great friendship and collaboration. The culmination of their studies, The Lear Collection: A Study of Copper-Alloy Socket Candlesticks A.D. 200 – 1700, was a significant addition to the study of early lighting. A thorough investigation, it included metallurgical tests and revealed previously unpublished finds. Sadly, Christopher Bangs passed away in 2022. He will be greatly missed.

Bud Lear was fascinated by the idea that so much of human history was spent in darkness illuminated by a single flame. The Dark Ages really meant living a dark life, especially during winter in Northern Europe, where twilight falls at half past three. The lights went out for much of Europe when the fall of the Roman Empire and breakup of international and regional trade meant the olive oil widely burned in lamps could no longer be obtained. Only wealthier households would have had a candlestick. A luxury item, it would have been carried from room to room. Although common in ancient Rome, socket candle holders were not widely manufactured again until the late 13th century, when the demand for domestic use rose, most likely an effect of the rise of the merchant class. Smaller households could make tallow candles from kitchen waste, and they were an easy byproduct for butchers and the main business of chandlers, who also offered the more expensive beeswax variety. Socket holders functioned better for small candles than prickets, which continued to be used for larger candles. For churches and monasteries, beeswax was not difficult to obtain, drawing upon their beekeepers and vassals. Throughout the Middle Ages, dependents were burdened with wax payments to ecclesiastical lords.1 Accounts of feasting long into the night occur frequently in secular Medieval and Renaissance records of the upper classes. The poorest homes were lit only by hearth and rush light.
Mr. Lear's focus is on copper alloy candlesticks, which are primarily brass, composed of copper and zinc, plus whatever elements existed in the local materials. Due to varying geographic components and metallurgical imperfections, the nuances of color among the candlesticks in the collection range from pinkish to yellow to silver hues. Every piece has been tested, analyzed, and researched.
Among the earliest forms in the collection is a bronze lathe-turned socket candlestick from the Roman provinces, 2nd/3rd c. A.D. Collected in Maine, it was tested with X-Radiography for structural and metal analysis, and corrosion profiling. A millennia saw little advancement in lighting technology. With designs derived from the coeval lion aquamaniles, Lots 733 and 734 are two lion form candlesticks from the 13th/14th c. Both are designated North West European, yet Lot 734 was found in England and bears distinct resemblance to period English depictions of lions and leopards. A dredging of the Thames River revealed miniature tin alloy candlesticks, possibly once used in a religious context as votives, a continuation of a Roman practice. The miniature tripod pewter candlestick inscribed "ECCE AMCVS" ("Behold, Friend") is in an excellent state of preservation. Tripod-based candlesticks are recognized as the earliest type of North West European socket candlesticks of the mediaeval period, their design derived from Romanesque prickets.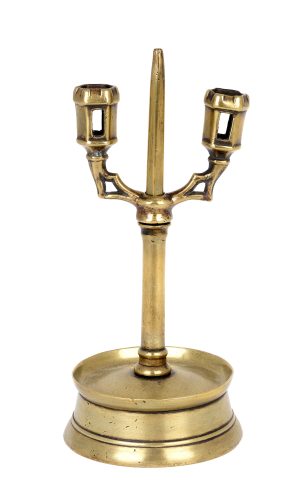 The early English group includes several fine 15th c. Three Kings form candlesticks, with Lot 735 one of only two known English detachable double-socket arm candlesticks in existence. Of Lot 732, another rare form, Christopher Bangs wrote, "this exquisite small candlestick exhibits a rare combination of austerity and adornment in its design," its two castellated sockets on Gothic pierced arms. Acquired in England, elements of its form and alloy lean towards an English attribution, but it is classified as North West Europe on account of the shallow-lipped integral-drip base with conical skirt. A Safavid double-armed candlestick, is described by Bangs as a "tour-de-force." Except for the sockets, it is a single casting. Its high cylindrical base, common in Near Eastern forms, directly influenced the circular-based European candle holders.
Arriving in the 16th century, English Tudor candlesticks inspire prose such as Hilary Mantel's: "in the king's chamber a gentleman brings in more tapers; the light flutters across the ceiling like an influx of cherubim." The Chalice and Paten shape of Lot 753 was influenced by the growth of trade with the highly developed metal casting centers on the Continent. This particular example "epitomizes the excellence of both the design and the execution of this group," (Bangs, p.89).
Lot 748 is extremely rare. It is the only known example of a copper alloy candlestick depicting Martin Luther, probably Nuremberg, 17th c. Luther symbolically holds the candle socket aloft, the light symbolizing his faith. In "Against the Antinomians," 1539, in which Luther chronicled his struggles, he compared faith to the light of a candle, which the devil was continually trying to blow out, "I feared he would carry light and wax and wick away. But God again helped his poor candle and kept it from being snuffed out." Lot 749 is a counterpoint, a bronze High Renaissance candlestick in the form of a standing satyr, from the workshop of Severo Calzetta da Ravenna (active ca. 1496 – ca. 1538). Severo specialized in small bronzes of mainly pagan subjects, which today can be found in the collections of major museums.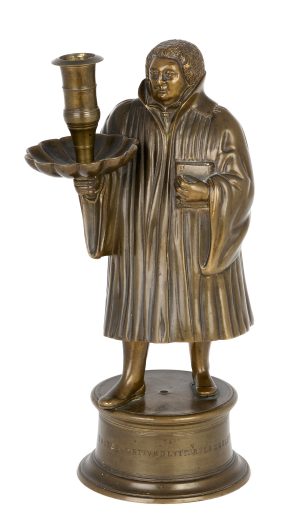 The English Trumpet candlesticks of the late 16th and early 17th century include rarities: Lot 737, a rare early English trumpet form, is one of only two surviving examples known, its elegant shaft with central knop resting on a graceful domed base. Lot 729 is an extraordinarily large, unique form with a highly unusual 5" removable bobeche, most likely used as a hand held pan light, perhaps for pacing, as Shakespeare might have done when devising a metaphor to reveal to Macbeth the brevity of life.
One of the jewels of the Collection is not a candlestick, but a Flemish brass lavabo of the 15th c., with zoomorphic spouts and female mask handle brackets. The form is straight out of the Merode Altarpiece (Robert Campin, ca. 1427-32, Metropolitan Museum of Art), in which a similar lavabo  hangs in the background above the Angel Gabriel's head.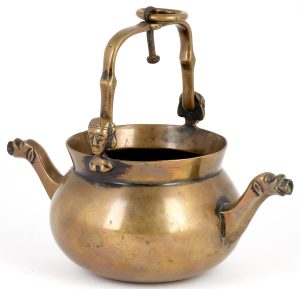 Bud Lear and Christopher Bangs have assembled one of the finest candlestick collections in the world, representing a level of effort, erudition, and commitment that must be seen to be appreciated. To see the march of time and technology is to better understand humanity's struggle against the dark. To hold an early candlestick in your hand is to touch the past. One can then well imagine being that early householder carrying a candle at night, its illumination throwing shadows against the walls, corners of the room deeply dark, the path lit by a single flame.
1 Heinrich Fichtenau, Living in the Tenth Century, 1991, University of Chicago Press, pp. 74-75, 270.
Bangs, Christopher, The Lear Collection: A Study of Copper-Alloy Socket Candlesticks A.D. 200 – 1700, King's Hill, 1995.