In Paris in 1910, William Zorach was a student of traditional art schools. He met and fell in love with a fellow student, the brilliant Marguerite Thompson. The two decided to break with past methods of painting, to see the world with fresh eyes, to behold, as Emerson wrote "God and nature face to face." They became pioneers of the Modern Art movement in America. After moving to New York City in 1912, Zorach found escaping to the country each summer was important for inspiration. "The richness of invention in nature was unbelievable." In 1923 William and Marguerite purchased a farm on Georgetown Island in Maine, which they returned to every summer. Next to the vastness of the open sea, perched on the edge of land, Zorach found "the bigness of nature and the infinite sky." Maine's craggy coastline of ancient bedrock headlands joyfully thunders with the arrival of Atlantic rollers breaking on beach and rock. In an environment consisting only of sand, sea, and sky; in which the elements were ocean spray, ocean fog, the rhythm of the sea, tremendous waves breaking their weight against the solid shelf of sand; Zorach walked alone in meditation.
"Art is not a process of copying nature, but seeing in nature that element of magic, of power, of mystery, that comes to us at moments of receptivity."  William Zorach
A painter, Zorach began carving in 1917, and working with stone in 1921. He realized it was his true métier. Self-taught as a sculptor, his direct carving was a break from the 19th century tradition of clay models. In direct carving, the sculptor divines an image directly from his material, its distribution of weight, its balance, its attitude. The sculpture would emerge organically from the stone or wood. Zorach's sculpture became elemental. "He was unique in often using very hard, colored, and patterned stones like granite boulders, which he often found on walks. His work was inspired by the stones he used and is more expressive (especially of love, strength, and inner peace), spontaneous, and simplified than that of his predecessors. There is also a spirituality to his carvings," Zorach Collection). Zorach enjoyed using the same tools as the ancients; the adze, the hammer, and chisel. He became one of the best-known and respected sculptors of his day.
 "Real sculpture is something monumental, something hewn from solid mass, something with repose, with inner and outer form, with strength and power."  William Zorach
Lot 859 Black Cat (1947) According to grandson Peter Zorach: "Black Cat was originally a black stone carving… If they interested him, my grandfather would collect stones near his home in Maine, usually along the shore where they were more exposed, and would imagine what he could create from them. The original stone was apparently gray on the outside but when carved and polished was black. He made bronze casts of many of his carved works." Family and pets were models. One can only imagine what Zorach saw while walking the beach. Rounded boulders became men and women, children, cats, dogs, even guinea pigs. For Zorach, the beach must have been teeming with granite life after a storm.
Lot 860 Pair of Pumas (1950) "William Zorach was commissioned by a Mrs Gladwin of Santa Barbara to make a pair of life-sized pumas for her garden. After studying two magnificent specimens in the Staten Island Zoo he modeled the pumas in clay and cast them in bronze. He also made a large pair of pumas in stone that were cast into bronze. One of the large stone pumas is in the Philadelphia Museum of Art's Azalea Garden. Like ancient echoes of the Late Period Egyptian bronze Gayer-Anderson Cat (ca 664-332 BCE, British Museum), this pair of household guardians regard each other with a graceful nod. With their quiet strength and dignity, they could well be idols of the goddess Bastet, whose form was originally that of a fierce lioness- before being compacted into the shape of a domestic cat. Protector of all of Lower Egypt, the king, and the Sun God Ra, these pumas, if asked nicely by human supplicants performing the proper rituals, will nobly guard a new kingdom.
"This is my sculpture. It's a sort of inner vision. It is seeing with a spirit that is timeless. It is love that is felt so intensely that the artist has to record it to give it back to humanity…" William Zorach
By: Cynthia Beech Lawrence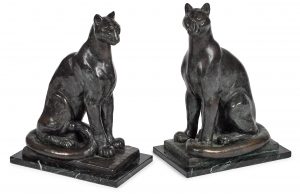 *****
Zorach, William, Art is My Life, World Publishing Co., 1967.
Nicoll, Jessica, To Be Modern, Portland Museum of Art, 2001.
The Zorach Collection, The Art of William Zorach, www.zorachart.com.
William Zorach Interview with Edward R Murrow, Person to Person, March 15, 1957.