Pewter is undoubtedly the crown jewel in the Herr collection. Auctioneer and appraiser James Pook discusses a highly important Lancaster, Pennsylvania pewter flagon, ca. 1770, bearing the touch of Johann Christoph Heyne (Germany, Lancaster 1715-1781), 11 1/4″ h. James explains, "This Pennsylvania German ecclesiastical pewter flagon is the highlight of the sale. Only one other is privately owned." Describing the mainly ecclesiastical output of Heyne, Donald Herr wrote, "His splendid flagons, with their strongly Germanic elements of cherub's head feet and body combined with a cast hollow English handle, are remarkable examples of cultural assimilation of styles" (Pewter in Pennsylvania German Churches). Most American pewterers of the time were trained in the English tradition. After working in Sweden, the German-born Heyne immigrated to American in 1742 as a member of the "First Sea Congregation" of the Moravian Church. The provenance of a canteen, ca. 1770, bearing Heyne's touch, was a memorable find at a flea market in Carlisle, Pennsylvania.
Due to protectionist British trade policies, the exportation of tin, the primary component of pewter, to the American colonies was prohibited. The export of unworked pewter was heavily taxed. Finished pewter imports were thus both a consumer and, eventually, a capital good. A soft metal with a low boiling point, pewter goods had a lifespan of only about ten years. Lacking an American source of tin, colonial pewterers melted old, worn-out British pewter to recast into new wares. The best American pewter exhibits simplicity, beauty, and innovation in the ways makers used their limited molds to create finely proportioned objects. One gifted pewterer stands above the rest. William Will (Germany, Philadelphia 1742-1798), patriot, statesman, and pewterer, was the son of New York pewterer John Will, who arrived in America in 1752. Donald Herr wrote, "Without question, no Colonial American pewterer equaled the variety of forms or had greater ability to make new designs from existing molds than the Pennsylvania German pewterer William Will" (Pewter.., p. 90).  The Herrs collected the works of both father and son. Nine objects by William Will, include sugar bowls, mugs, a tulip tankard, a drum teapot, and the jewel of the collection, an important coffee pot, ca. 1780. While few examples of this form exist, it has remained one of the most iconic pieces of American pewter. Standing sixteen inches in height, its clean neoclassical lines and symmetry lend it visual impact. Tucked inside of many pieces of hollowware are Donald Herr's handwritten notes, receipts, and other documents. A heavily lidded William Will sugar bowl contains a note that its lid "appears to be the base of a salt". Of the works attributed to and bearing the touch of John Will (Germany, New York 1696-ca.1774), an important flagon and chalice, ca. 1760, has been traced to the Round Top Lutheran Church, Bethel, Duchess County, New York.
Pewter highlights include a New York, New York oval teapot, ca. 1745, bearing the touch Francs Bassett I, one of the rarest forms of American 18th c. design. Francis Bassett I was active in New York from 1720 until 1758. Of the seven Philadelphia items in the collection bearing the Love touchmark, a standout is a highly rare Queen Anne teapot, late 18th c. Only a few Love teapots are known. Of five works by Parks Boyd (Philadelphia ca.1771-1819), a pewterer who worked at various places, including Elfreth's Alley, is a quart tankard, ca. 1805, in a style found only in the Philadelphia area, its high dome and multiple fillets exhibiting a strong Scandinavian influence. The Herrs explored connections between makers. Robert Palethorpe Jr. (Philadelphia 1797-1822) was Boyd's neighbor, eventually purchasing his shop. The rare 3 ½ pint barrel mug, ca. 1820, is possibly the only known example by Palethorpe. Simon Edgell arrived in Philadelphia from England in 1713 or earlier, purchasing property on High (Market) Street. "Simon Edgell's pewter is among the earliest and rarest of surviving American pewter," with fewer than a dozen signed pieces known. (Herr, Pewter… p.131) A rare beaker, ca. 1730, bears his touch. It is likely the earliest marked American beaker and was purportedly used by the Bowmansville Mennonite Church. Of the twelve porringers featured are three with simple tab handles, a form made exclusively in Pennsylvania. There are two by Chester County makers Robert Porter, ca. 1780, and Simon or Samuel Pennock, ca. 1820, and a rare example from Yorktown maker Elisha Kirk, ca. 1785.
Furniture includes a Pennsylvania painted pine dower chest, dated 1829, with lid, front, and feet profusely decorated with stylized flowers, birds, and pinwheels on a red ground. A Johannes Baughman (Bachman) (Conestoga Township, Lancaster County (1746-1829), Lancaster County Chippendale walnut schrank, ca. 1790, is signed under a drawer and is topped with a bold stepped cornice over a case with raised arched panels centered by fluted pilasters, all resting on a base of two drawers. A Lancaster County Chippendale walnut tall case clock, ca. 1780, is signed Jacob Gorgas.
A selection of rare and important objects, The Collection of Donald and Patricia Herr exemplifies their love of Pennsylvania German decorative arts. In the words of the Herr family, "These items represent heritage, craftsmanship, scholarship, and above all, cherished moments
by: Cynthia Beech Lawrence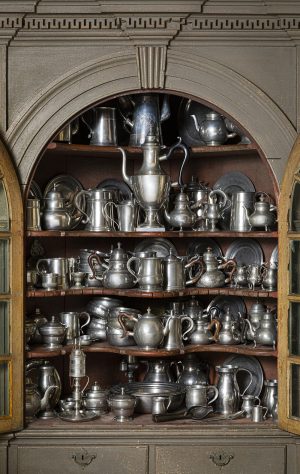 For more information on William Will, please read our earlier blog: