During the past year, people have spent a lot of time at home. Homes have been our refuge from the pandemic. In them we have cooked, rearranged, revisited old memories, telecommuted from basements, and also yearned to escape. We've considered how we inhabit our space, what we surround ourselves with, and what we need to be inspired, happy, and safe. Having spent the winter of 2020/21 largely indoors, gazing out the windows, Redfield's painting hits close to home.
In 1931 Edward Redfield, the most important American Impressionist painter of the New Hope School, and his wife Elise, purchased a house. "The Old Bowlby Property" is a stone manor house a short distance down the river from their first home in Center Bridge, Bucks County. It is surrounded by Redfield's familiar compositional elements: the Delaware River, the canal, the towpath, the shadow-casting elevation of Chestnut Ridge, and the blue sky above. The house sits along the canal amongst grand old trees, shrubbery, and gardens. The Redfields restored the home, with its antique paneling and hand forged nails, and opened the rooms to sunlight. They renewed the garden, growing food and flowers. Redfield built Windsor furniture from Delaware River driftwood and hooked rugs using old family clothing. He painted chests and toleware with his own designs. He filled his home with creations born of his effort and ingenuity, made of materials drawn from his surroundings.
Redfield's painting reflected his self-reliant character. He painted in all weather, working in snow with up to fifty pounds of equipment and clothing.  Redfield worked on a large scale, in this case 50" x 56", and had to pace from subject to easel in order to see around the canvas. He could not simply copy an image. He carried the information in his head while he moved, and painted informed by memory, imagination, and intellect. He said "real art comes from feeling" that copying scenes could not provide, and judged his paintings on their ability to provide an "authentic intense experience for viewers." He has succeeded with South Window.
Here is a painting even more expansive than a Redfield landscape. It is his interior universe. At the rotational center are Elise and nature, orbited by a cosmos of his hand-hewn furniture and paneling, potted garden flowers saved from the cold, objects and mementos accumulated, and a tantalizing glimpse of his artwork. Outdoors is bright with snow. All are illuminated by the light of a winter sun on its low path across the sky.  Redfield describes his island universe in his language of painting.
The home has a soul. We choose how we live, where we live, and what we surround ourselves with. Our homes reveal who we are. They reflect our desire for peace, our desire for love, our intellectual pursuits, and our state of happiness. This view of Redfield's living room, a winter scene outside the window, and his wife, Elise, represents the painter's interior landscape of the soul. Its atmosphere is peaceful and intimate. The feeling of shelter is palpable. It is warm and inviting, awaiting our arrival. It is a workshop of both art and the domestic arts. It is a museum, a life's curio cabinet of fascinating specimens and memories. It is a lush private Eden, where we must tread lightly, so as not to disturb.
The past year has given us ample time to reflect on the meaning of home, as we stare at our own four walls and pace our hallways. May we all be as authentic, and as happy, in our homes as Edward Redfield.
by: Cynthia Beech Lawrence
Literature:
J.M.W. Fletcher, Edward Willis Redfield: An American Impressionist (1869-1965); The Redfield Letters, Lahaska, PA: JMWF Publishing, 1996
Kimmerle, Constance "Edward W. Redfield: Just Values and Fine Seeing", James A. Michener Art Museum, Bucks County, PA, University of Pennsylvania Press, Philadelphia, 2005
Interviews with Robert Lippincott, Charles Hargens, Jr., and Harry Leith-Ross conducted in 1963, Solebury Township Historical Society, http://soleburyhistory.org/edward-w-redfield
National Register of Historic Places; NPS nomination form June 18, 1984, entered March 26, 1985.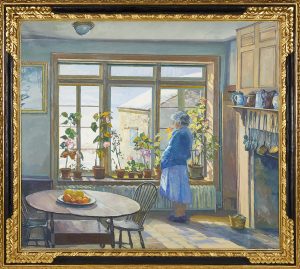 Edward Willis Redfield (American 1869-1965) "The South Window", 1941
Elise Redfield and interior living room, winter outside (snow).