Facebook Antique Identification Parody
by: Jamie Shearer
How many of you spend more time on Facebook than you would ever care to admit? I sheepishly raise my hand from the back of the room as I try to avoid the pointing fingers and snickers from the crowd. Many of you like antiques, buy antiques, sell antiques, trade antiques or just hoard them, it is in your blood. I am sure that many of you spend some of your time looking and reading the Facebook posts on one of the many sites dedicated to antiques. I am a lurking member of several of the antique related Facebook groups, but very rarely do I ever post anything in response to questions or even comment on someone's picture. I may have great insight or knowledge of a particular item that is posted however I just don't need the aggravation and frustration of the comments. I like to throw some of the Boy Scout popcorn in the microwave, put my feet up and just chuckle as the opinions and comments scroll on by. Thankfully the last time one of the Webelo's rang my door bell I bought a case of it (I never have been able to say no). I have enough popcorn to keep my occupied while I read posts for the next 10 years. So, I can image what the comment section would look like should I post the fantastic Lehmann toy that we sold at Pook and Pook in 2017 for $10,370. Here is what I think it would look like:
Hey guys I just found this toy in my grandma's attic. Anyone know anything about it?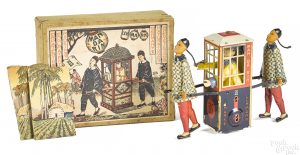 (betty321): Wow what a great toy! I think my neighbor has one.
(Johnboywalton36): How much is it? Is it for sale? PM me
(sonofsanford): PM me
(Joesneighbor13): I think it's a Hubley
(Krueger): Sometimes these things are marked on the bottom of the foot. That might tell you who made it.
(betty321): call the pickers! I bet they would buy it.
(Bob): PM me.
(Bobsbrother): Cool toy, do you think that is the original box? I heard on the Roadshow that boxes can be worth a lot of money!
(Johnboywalton36): I PM'd you.
(sonofsanford): I PM'd you.
(betty321): it almost looks like there is writing on the side of it. This is so neat! I am sure someone on here will know for sure what it is and who made it.
(Stellathedog): This is a Lehmann Mandarin wind-up toy from Germany. Great toy with a great box! What a good find!
(Joesneighbor13): I think it's Hubley. Look how it's made. That is a dead giveaway.
(basementguy39): Looks like it is from the Civil War.
(basementguy39): It could have even been brought here on the Mayflower.
(Bob): I would be interested – how much?
(Marlinthemagician): PM me
(Willamina2forU): I would love to have this! Can you just give it to me? It would look so neat with my collection of Beanie Babies.
(Samnottheman): I googled Hubley, Civil War, Mayflower toys. I didn't find anything. It must be rare.
(Joesneighbor13): maybe it's not Hubley, I was sure that it was. Maybe it's a Buddy L.
(Stellathedog): It's a Lehmann toy.
(Johnboywalton36): I would pay good money for this – PM me.
(Bob): PM me
(Hannahbanana): Did you call the Smithsonian?
(Hannahnanana): or those Pawn Guys.
(basementguy39): I bet it would sell on Ebay.
(Johnboywalton36): PM me
(Joesneighbor13): not Buddy L, couldn't find it on google anywhere. I wish we knew who made it.
(Stellathedog): It was made by Lehmann and it is called the Mandarin.
(basementguy39): Ebay.
(Johnboywalton36): I would easily pay $200 – PM me.
(betty321): WOW $200 – I would definitely take the money.
(betty321): I haven't been this intrigued since the Bingo Hall incident of 1973.
(Erinlovesoscar): I was at that – I remember it well. What a hoot!
(Bob): PM me
(Samnottheman): I found one on Ebay – it was $89,999.99. Cha-ching. Wow this is exciting.
(betty321): I knew it!
(Bob): PM me
(Johnboywalton36): that's not a real price – this is only worth $300, I have had many of them.
(basementguy39) I told you Ebay was the place to sell it! I knew it.
(Cathyisold): call one of those people who do the tag sales. There is a lady in the neighborhood who gets crazy money for stuff.
(johnboywalton36): I will up my offer to $225, I am telling you these are only worth about $300, I buy them all the time for cheaper.
(Samnottheman): my bad! The toy on EBay really didn't sell for that much. Apparently, it was his asking price. Some guy with a great toy collection in Africa, he has others for sale but has high prices and wants paid in some kind of phone cards or something. It might be shady. Be careful out there.
(Bethyislooking): My cousin's, aunt's sister in law who is now my neighbor's best friend has one of these except is doesn't have the blue part or the two men, and there is no box.
(cathyisold): I Pm'd the tag sale lady, she knows a guy who would buy it, I think his name was Bob.
(Erinlovesoscar): My dog would love to play with this! Just got a new puppy and he would love it, my old dog not so much!
(Bob): PM me.
(betty321): LOL still thinking about the Bingo hall incident. 🙂
(Bob): PM sent
(basementguy39): If it were mine, I would clean it with steel wool and sandpaper and make it really shine.
(betty321): OMG NO. You should never clean them!
(betty321): I had a friend of my cousins who cleaned a painting with a wire brush – she ruined it by taking all of the paint off of the canvas. I would never do that.
(Luke2000): Ths gr8 pay u $$ Ho mch 4 ths
(Bob): PM sent!
So, here is an example of the great entertainment provided by some of these online antique sites. Any use of exact or similar Facebook user names are purely coincidence as they are not based on any individuals.