A recent crossing of the the auction block in our March 25th Firearms, Militaria, and Sporting auction was a fine, untouched example of a Nathan Starr model 1816 musket. This particular example was made for the Delaware militia, with a stamp "US JM P", signifying it was inspected by Justin Murphy, a US Inspector of contracted arm. The firearm bears two date-stamps reading 1831, making this the final year of Justin Murphys term, who had been inspecting arms for the US since 1818.
This Flintlock Musket was made in Middletown, Connecticut by respected firearm and blade maker Nathan Starr. Starr forged and repaired weapons during his service as a major in the Continental Army during the Revolutionary War. After the war, Starr returned to his home of Middletown, Connecticut and continued on with his life, making a living producing agricultural tools for local farmers. In 1798 he found himself making weapons once again, receiving the federal governments first ever contract for sword production. Starr was able to subcontract different parts of the production to respected local craftsmen, and on December 31st, 1798, received $2000 in exchange for 2000 cavalry sabers. Starr used the money to purchase a plot of land along the Coginchaug River in Middletown, where he built a large factory to house his operations.
In 1808 Starr received his next large commission, this time from the US Navy. The Navy commissioned 2000 cutlass swords at $2.50 each and 2000 boarding pikes at $.75 each. Starrs swords became known as "the cutlass that fought the War of 1812." By the end of the War of 1812, Starr, now working with his son Nathan Starr Jr, had made a name for themselves as manufacturers of not only edged weapons, but firearms as well. Starr was also commissioned to make ceremonial swords for some of the wars heroes, including General Andrew Jackson.
The model 1816 flintlock musket was the replacement for the model 1812. The 1816 had a similar barrel length and bore to the 1812, but featured a longer lock plate, a shorted trigger guard, and a longer bayonet. The 1816 was used by Texans during the Texas Revolution and by the US Army during the mexican-American War. It was also used in the early days of the American Civil War. The large majority of model 1816's had been converted to percussion by 1860, for its increased reliability and weather resistance. Many of the unconverted muskets ended up in the south, carried by confederate soldiers in the first years of the Civil War.
This excellent example sold for $4,473.
By: John Burdumy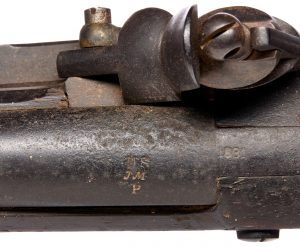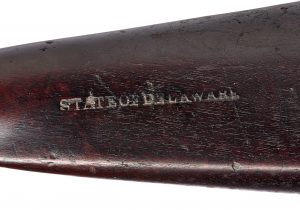 Click here for more information: https://www.bidsquare.com/online-auctions/pook/nathan-starr-model-1816-delaware-flintlock-musket-2138590