Art lots to keep your eye on in our May 21, 2021 sale include several paintings by members of The Philadelphia Ten artist group.
The Philadelphia Ten was the brainchild of ten women painters who had all trained in Philadelphia at the Philadelphia School of Design for Women (now the Moore College of Art and Design) and the Pennsylvania Academy of the Fine Arts in the early 1900's. The group exhibited sixty-five times between 1917 and 1945. Over the years, composition of The Ten included twenty-three painters and seven sculptors, but their annual shows were mostly limited to ten artists whose work was shown in depth. Individual styles ranged within the group, but the greatest influence was that of Pennsylvania Impressionism, and the predominant subject landscape.
The banding together of these women was significant. This was the first generation of female modern art professionals. Members of The Ten were united in their desire to establish their identity as artists, and earn a living at the profession. At the time, women struggled to be accepted by juries for art shows run by the restrictive, male-dominated art establishment. Clubs such as the Salmagundi were male-only. The National Academy of Design showed Ten artist Theresa Bernstein's work thirty times yet never voted her in as a member. (In fact, only three of the Ten were ever elected.)  The work of women painters was viewed primarily through the lens of gender, quality came second. Snarky reviews of women's art were laden with terms such as decorative, sentimental, infantile, and maternal.
The members of The Ten were determined to show their range. While united in purpose, gender, and geography, these artists were products of the best art schools and possessed highly individual styles. Banding together created a synergy. Audiences crowded the exhibitions, reviewers waxed lyrical.
"Over here the sea dashes madly against a ledge of rock; over there an Indian girl stares at the world with a certain stoic calm; decorative panels of flowers gleam with a subdued golden light on the south wall; an old man with a net lifts a weather-worn face against the background of a quaint Cornish village. Here is a tall landscape of snow in the Pennsylvania hill country; a matter of fifteen feet away finds a Corpus Domini procession winding its gayly colored way between the stone house of Ravello, Italy, and not so far from that a turbulent Irish glen is a dark green jewel." (Evening Public Ledger, Philadelphia, February 1, 1929.)
As Page Talbott and Patricia Tanis Sydney summarize in their book "The Philadelphia Ten", "a critic in this period could confer no greater compliment than to label a woman's work "masculine," or even to mistake it for a man's. Because many of The Philadelphia Ten used broad, loose brushstrokes and a heavy application of paint, reviewers often described their work as "masculine"- not an ideal to which any of these women aspired, but intended as high praise."
The annual exhibitions gained renown, and the artists became highly collectible. Opening in Philadelphia, exhibits then traveled to cities across the country, attracting national recognition and a larger market. The Philadelphia Ten experiment was a watershed. It succeeded. The artists were able to achieve a measure of parity in the marketplace and earn income, a remarkable achievement during the years of the Depression.
"The doors of life and of their outlook as artists, too, have opened then together for women of our day." (Unidentified newspaper clipping from Philadelphia, February 14, 1929.)
by: Cynthia Beech Lawrence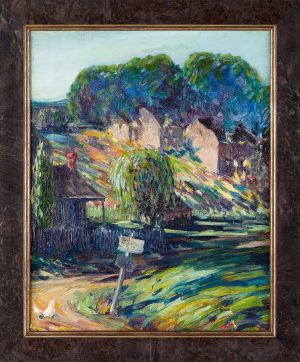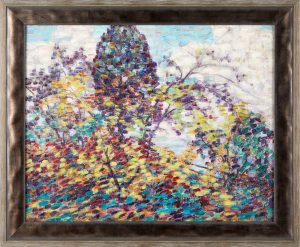 Lot 20 and 21 are works by artist Maude Drein Bryant. Born in Wilmington, Bryant trained at PAFA under Thomas P. Anshutz, Hugh Breckenridge, and William Merritt Chase, and at the Academie Colarossi. Breckenridge's influence, can clearly be seen in lot 20, where her bold, exuberant brushstrokes and use of color are painted with the sheer joy of wet paint and self-expression. Bryant featured in the Philadelphia Ten's second exhibition of 1923, and was admired for her brilliantly-colored still life and landscape canvases.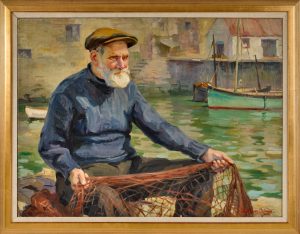 Lot 47 is the work of Isabel Branson Cartwright. A native of Coatesville, Cartwright studied under Elliott Daingerfield and Henry B. Snell at the PSDW, and in London with Frank Brangwyn. She was one of the original Philadelphia Ten and participated in all of their exhibitions. Famous for her portraits, her painting style was colorful and vibrant. Cartwright traveled and painted all over the United States and Europe. She is documented in Polperro, Cornwall, in 1928, where she painted "Low Tide, Polperro, Eng.," a work shown in the same 1929 exhibition as the "man with a net" reviewed above. Our lot 47 is also a man with a net, and the Cornish lugger docked behind him is registered to Fowey, the customs port of Polperro.
Source:
"The Philadelphia Ten, A Women's Artist Group, 1917-1945," Page Talbott and Patricia Tanis Sydney, Galleries at Moore and American Art Review Press, 1998.